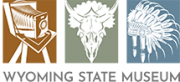 Family Days returns to in-person programming at the Wyoming State Museum with Dino Day, a celebration of all things dinosaurs, July 10 from 10 a.m. to 2 p.m.
This free event, open to all kids and their parents, will feature crafts, games, a "tunnel through time," a "field of dinosaurs," local food trucks, a large assortment of museum artifacts to see up close, and engaging booths hosted by other non-profit partners. Guests will also be able to take their picture with a full size triceratops skull that has been behind the scenes in the museum's collection storage.
Half of the day's activities will be held inside the museum with the other half outside on the museum grounds.
The Wyoming State Museum is located in the Barrett Building, 2301 Central Ave. in Cheyenne. Please call 307-777-7022 for more information.