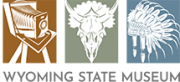 Announcing Digital Skills for Seniors, a free class from the Wyoming State Museum
The Wyoming State Museum is offering a free, eight-week course that gradually introduces skills that older adults can use to simplify and improve their everyday lives.
Made possible by a Spectrum Digital Education Grant, this program helps participants get comfortable using an Apple device to access the internet, utilize tools like the magnifying glass to read small dinner menus, connect with friends and family on social media, and more. Each class builds on the previous lesson and includes time for one-on-one assistance and practice.
Participants can bring their own Apple device from home or borrow an iPad from the museum for free. This course will focus on Apple devices only, but a course for Android users may be available in the future.
Classes are scheduled on Wednesdays at 8:30 a.m. in the Wyoming State Museum classroom, beginning on July 7 and ending on August 25. Registration is completely free and is open until June 28.
To register, call Melisa McChesney at 307-630-2573. Space in this class is extremely limited, so we encourage those who are interested to sign up as soon as possible.
This program is offered in collaboration with Wyoming Relay and AARP Wyoming.