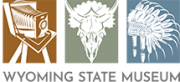 The Wyoming State Museum's Hands On Habitats Lab reopens this Friday, May 28, with some exciting updates.
The new and improved HOH Lab features more outdoor inspired activities including a fishing "pond" and camp kitchen. Visitors will be able to touch pelts from different animals including deer, beaver, and skunk. They will also see some of the museum's recently acquired taxidermy.
"The Hand's On Habitats Lab is one of our most popular exhibits, I am excited to have it open again," says Museum Director Kevin Ramler. "The new hands-on activities are very cool, and of course we still have the old favorites, like the prairie dog tunnel, bat cave, and campfire."
The Wyoming State Museum is open Monday through Friday from 9 a.m. to 4:30 p.m. The museum will be closed Monday May 31 for Memorial Day.