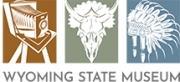 Join the Wyoming State Museum at Tall Tales, a Family Day dedicated to the tall tales of the American West. From Paul Bunyan and his giant blue ox, Babe, to Annie Oakley's incredible shooting skills, this event will cover many of the legendary stories that shaped our region.
Family Days are generously sponsored by Scheels in Johnstown, CO. Thanks to their support, these events are always free and open to everyone! This month will feature crafts, outdoor games and activities, storytelling, as well as visiting partners from the Cowgirls of the West Museum and the Laramie County Library.
The Wyoming State Museum is located in the Barrett Building, 2301 Central Ave. in Cheyenne.
Please call 307-630-2573 for more information. Family Day fans can follow the museum's Facebook and Instagram accounts to stay in the know about upcoming events: @wyomingstatemuseum.