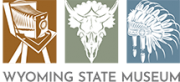 Artists for Dia de los Muertos Sought
The Wyoming Arts Council, the Wyoming State Museum, Cheyenne Botanic Gardens, and Cheyenne Depot Museum have initiated a call for local artists to create original artwork for the 2022 community Día de los Muertos celebrations. Submissions are due on August 7 at 11:59 PM. Work must be completed by September 26, 2022.
The citywide Día de los Muertos events seek to share the cultural significance of this holiday and provide welcoming spaces for people to celebrate publicly. The host organizations are actively working to increase the authenticity and educational value of the events. The first major step is inviting local artists to create authentic artwork that will be used for event posters, social media ads, and other promotional materials.
Artists of all mediums are encouraged to apply. However, the winning artist must create a work of art that will work well for print and digital advertising. If an artist creates a 3D work of art, the piece will need to be portrayed in 2D so that it will meet marketing needs. One selected artist will receive $750 to create a final work. Once the piece is created, the State Museum, Botanic Gardens, and Depot Museum will utilize their inhouse design professionals to create a regional marketing campaign featuring the work.
The Día de los Muertos celebrations are family-friendly and inclusive of all people. Artwork must be appropriate for children. We encourage artists to reflect on their own cultural and traditional connections to Día de los Muertos when creating their artwork. Artists should consider the following goals when creating their proposal:
Represent the cultural significance of Día de los Muertos in a visually compelling way

Appeal to multigenerational families and people of all ages

Represent the diversity of people, places, and cultures who traditionally celebrate this holiday
Please call 307-630-2573 if you have any questions regarding your eligibility or if you need a paper application.