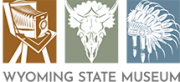 The Wyoming State Museum's annual Día de los Muertos Family Days program will be held Saturday, November 6.
Families are invited to visit the Museum anytime between 10 a.m. and 2 p.m. to explore the cultural traditions and folk art of Día de los Muertos, or Day of the Dead.
During their visit, participants will celebrate the holiday as they decorate sugar skulls, make tissue paper marigolds and papel picado, view examples of altars, and enjoy traditional music and dancing by Las Angelitas Unidas y Los Rayos del Sol.
Día de los Muertos is a day dedicated to remembering those who have departed. As opposed to Halloween, it is a day of celebration filled with rich cultural traditions and colorful folk arts. Celebrating those traditions and arts is a way for us to explore the cultures that are a part of Wyoming's past and present.
Family Days is a free program of the Wyoming State Museum which provides children and their families with fun and educational opportunities to explore Wyoming's natural and cultural resources. Family Days is held the first Saturday of the month at the Wyoming State Museum. Each month's program has a different theme and activities are geared towards children and their families. Family Days are generously sponsored by Scheels in Johnstown, CO. Thanks to their support, these events are always free and open to everyone!
The Wyoming State Museum is located at 2301 Central Avenue in Cheyenne. Hours are 9 a.m. to 4:30 p.m., Monday through Saturday. Admission to the Museum and all of its education programming is free.
For more information about this and other Wyoming State Museum programs please call 307-286-5952.