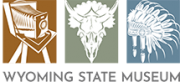 The Wyoming State Museum's annual FREE trick-or-treat event will be held on Sunday, October 31, from 12 to 4 p.m.
Community members are invited to participate in a COVID-safe trick-or-treat around the museum grounds, meeting characters from Wyoming's past and collecting a bag of candy at the end.
Halloween at the Museum is a safe and educational event for children of all ages, although children must be accompanied by an adult. The entire event will take place outside, so don't be afraid to wear a coat over your costume!
Halloween at the Museum is generously sponsored by Smile Doctors in Cheyenne, Thanks to their support, this entire event is free and open to all!
The Wyoming State Museum is located in the Barrett Building, 2301 Central Ave. in Cheyenne.
Please call 307-630-2573 for more information. Follow the museum's Facebook and Instagram accounts to stay in the know about all of our upcoming events, @wyomingstatemuseum.