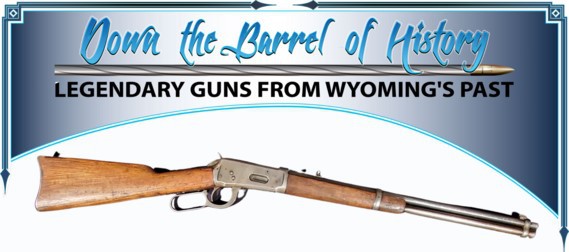 The newest exhibit at the Wyoming State Museum, "Down the Barrel of History: Legendary Guns from Wyoming's Past," is now open!
"Down the Barrel of History" showcases Wyoming stories and histories told through twenty-seven guns from the Museum's collections. This exhibit was co-curated by volunteer Evan Green with the Museum staff.
Starting in 2018, Evan began working with the Museum's firearm collection, cataloging, researching, and creating Firearms Friday videos for the Museum's YouTube channel. All of his hard work and dedication have resulted in this exhibit.
Some guns on display have an exciting history on their own, like the Colt Single Action Army that was on outlaw Al Smith during the "Hole-in-the-wall Fight." While others are from moments in Wyoming's history, like the three guns used on the Cheyenne-Deadwood stage route.
Whether you enjoy the stories or the historic guns themselves, this exhibit has something for everyone!
Come by the Wyoming State Museum during our regular hours from Monday - Saturday, 9 a.m. to 4:30 p.m. Admission is always free.