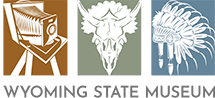 The Wyoming State Museum is inviting non-profits, community groups, and researchers that are environmentally focused to host information booths at their April 1st "Earth Extravaganza" Family Day event from 10 am-2 pm.
"Earth Extravaganza" is a free event designed for families with children aged 5-10 years old. Wyoming State Museum family events are often attended by 300-500 people each month, creating unique opportunities for organizations to share their message with a wide range of Cheyenne community members.
Partner organizations will host their own booths where families can participate in activities, learn about the organization, and discover ways that they can contribute to a more sustainable future for our planet. There is no fee to participate, and the museum will provide a pizza lunch for all partners and volunteers.
Interested organizations can contact Melisa McChesney, Curator of Community Engagement, at This email address is being protected from spambots. You need JavaScript enabled to view it. or 307-630-2573.