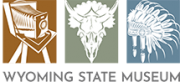 On February 4, 2023, the Wyoming State Museum will host a collaborative celebration of the people, departments, and tools that keep our state running all winter long. "Wyoming Winter" is part of the museum's monthly Family Day programs, hosted on the first Saturday of every month.
From 10 a.m. to 2 p.m., adults and children alike are invited to participate in this fun-filled event featuring crafts, games, up close encounters with museum collections, story time, and more.
Partners from Wyoming State Parks, Wyoming Game & Fish, WYDOT, Wyoming Outdoor Recreation, and Wyoming Trails Program will come together to teach kids and families how teams across the state work together to keep winter fun and safe for everyone in Wyoming.
Visitors will find a snow plow, sno-cat, snow mobiles, and other equipment parked on the State Museum lawn. Participants will get to learn how these machines are used to manage winter conditions, then go inside the museum to explore information booths about how people can enjoy winter activities like ice fishing and snow camping. The museum's education staff will also be teaching about the many ways that animals have adapted to survive harsh winters in Wyoming.
In addition to the many fun and educational activities, The Hawthorne Tree will be selling beverages and snacks throughout the event.
Family Days are generously sponsored by SCHEELS in Johnstown, CO. Thanks to their support, these events are always free and open to everyone! Family Day fans can follow the museum's Facebook and Instagram accounts to stay in the know about upcoming events: @wyomingstatemuseum.
People of all ages are welcome to attend Wyoming State Museum Family Days. Register at wyomuseum.wyo.gov/familydays or register by phone at 307-630-2573.
The Wyoming State Museum is located in the Barrett Building, 2301 Central Ave, in Cheyenne. Please call 307-630-2573 for more information.